Welcome to Salem Orthopaedic Surgery
Salem Orthopaedic Surgery provides patients of all ages with comprehensive medical and surgical orthopaedic care, including the treatment of diseases, injuries and conditions of the bones, cartilage, joints, muscles, tendons and ligaments.
Our Providers
From the care of fractures and sprains to total joint replacements, our specialized team of orthopaedic surgeons
Joshua Natali, D.O.
,
J. Cletus Paumier, M.D.
,
Dominic J. Peters, M.D., FAAOS
and
David Prior, M.D., FAAOS
, offer comprehensive diagnosis and treatment for a wide range of orthopaedic conditions and injuries.
Our Services
We offer a comprehensive line of procedures, including: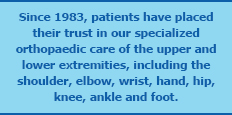 Hip:
Total hip replacement surgery
; including
anterior hip replacement
, an innovative new approach to hip surgery
Complex
hip revision surgery
Knee:
Total knee replacement surgery
Outpatient partial knee replacements
Complex
knee revision surgery
Arthroscopic knee surgery
(including ACL/
menisci
repair)
Shoulder:
Arthroscopic shoulder procedures
Rotator cuff tears
Shoulder replacements
Contact Us
Our office is located in The Orthopaedic Bone & Joint Center, which is on the first floor of Salem Regional Medical Center, 1995 East State Street in Salem. Appointments are available by physician referral or by calling our office at 330-332-7840.